Dedicated Server India
Dedicated Server Hosting Management Company Dedicated Server Hosting in
U.S., India
Managed Dedicated Server Hosting in
U.S. with Delightful Support for your business
Every business has unique IT requirements, and that's why we provide a wide portfolio of hosted solutions. And since the best configuration for your business may span more than one platform, we can help you mix-and-match to create the optimal compute solution for your needs. All backed 24x7x365 by Delightful Support.
We provide the best managed dedicated server which is the best-suited for your specific business use. We support Rich Media Website Hosting which support your most dynamic media, while handling traffic spikes with ease. Our E-commerce Website Hosting solutions support with e-commerce, that is scalable, and designed for security. We provide right infrastructure for your Application you can deliver a solid and reliable end-user experience.
Our Managed Hosting offers customers the flexibility to choose what services they need to tailor their hosting environment. Our Managed Hosting solutions are available on both platforms, Microsoft Windows or Red Hat Linux server platforms
Linux or Windows Plan for Dedicated Server Hosting in
U.S.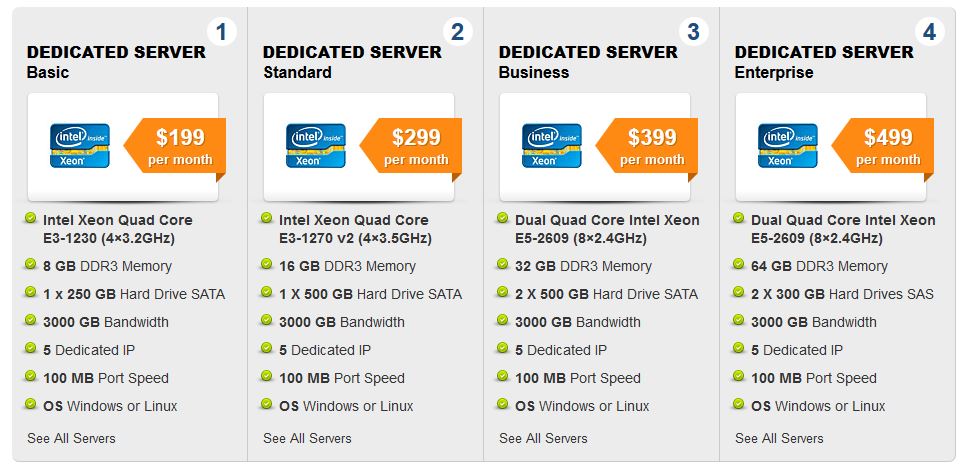 Linux Dedicated Server Hosting in
U.S., India, Windows Dedicated Server Hosting in
U.S., India
All Dedicated Linux Server solutions include
Software:
Apache Web Server
MySQL
PHP
Mail Server (Postfix, Sendmail, qmail)
Hosting:
Zero-Downtime Network with money-back guarantee
Industry leading 1-Hour Hardware Replacement with money-back guarantee
Unlimited access to 24x7x365 dedicated support team including Level 3 Tech Support
Instant Emergency Response
Full administrative access
Fully resilient DNS infrastructure
Automated Microsoft Security Patching
Free Incoming Bandwidth
Tier-1 network utilising multiple bandwidth providers such as MCI, Sprint, Tiscali, Abovenet and LINX
Popular Upgrade Options
Managed Firewall
SSL Certificates
MySQL Server
Web Stats Reporting
Windows Dedicated Server Hosting in
U.S., India
All Windows Dedicated Server solutions include
Software:
MDAC 2.8
.NET Framework 2.0/3.5
Microsoft XML 3.0/4.0/6.0
IIS 6.0/7.0
Windows 2003/2008 Resource Kit
VBScript 5.6
Hosting:
Zero-Downtime Network with money-back guarantee
Industry leading 1-Hour Hardware Replacement with money-back guarantee
Unlimited access to 24x7x365 dedicated support team including Level 3 Tech Support
Instant Emergency Response
Full administrative access
Fully resilient DNS infrastructure
Automated Microsoft Security Patching
Free Incoming Bandwidth
Tier-1 network utilising multiple bandwidth providers such as MCI, Sprint, Tiscali, Abovenet and LINX
Popular Upgrade Options
Managed Firewall
SSL Certificates
MS SQL Server
Web Stats Reporting
Dedicated Server Basic
Free Server Management

Features
Intel Xeon Quad Core E3-1230 (4×3.2GHz)
8 GB DDR3 Memory
1 x 250 GB HDD
3,000 GB Bandwidth
5 IPs (5 usable)
10 MB Port Speed
OS Windows or Linux

Dedicated Server Standard
Free Server Management

Features
Intel Xeon Quad Core E3-1270 v2 (4×3.5GHz)
16 GB DDR3 Memory
1 x 500 GB HDD
3,000 GB Bandwidth
5 IPs (5 usable)
100 MB Port Speed
OS Windows or Linux

Dedicated Server Business
Free Server Management

Features
Dual Quad Core Intel Xeon E5-2609 (8×2.4GHz)
32 GB DDR3 Memory
2 x 500 GB HD
3,000 GB Bandwidth
5 IPs (5 usable)
100 MB Port Speed
OS Windows or Linux
For More Details on
Please Call us on +91 120 649 8887
or
Email us on sales@itmonteur.net